16th April 2019
Edgars, the Oxfordshire-based planning consultancy, has scooped two top awards at the Oxfordshire Property Festival 2019.
Edgars was voted Property Advisor of the Year, sponsored by Blake Morgan, and Jayne Norris, director, was voted Property Leader of the Year, sponsored by Knights plc.  More than 300 guests voted by mobile phone on the night of the event to select Jayne for the top prize.
Edgars was also Highly Commended in the Most Innovative & Enterprising Working Environment (cool & funky space) category, sponsored by Savills, for its Witney office, with the winner being Nielsen, Oxford Business Park, developed by Arlington.
The black-tie evening was held at Keble College on 11 April 2019 and attracted key players from the Oxfordshire property scene.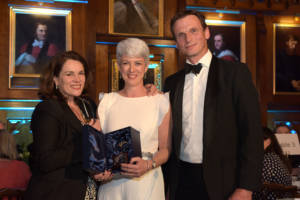 In the last 12 months, Edgars has seen a 30% increase in its turnover, increased staff numbers by 50%, and won 67 new clients, made key hires and internal promotions, moved into state-of-the-art new offices, refreshed its brand identity to reflect its future direction, celebrated its 12-year anniversary and seen a high planning application approval success rate.
Jayne Norris said: "These awards are testament to the super talented and amazing team along with my co-director Jon Westerman for and all their hard work. Our brilliant clients drive us day in day out to give the very best advice, and our many trusted companies with whom we work on the many and varied projects including architects, environmental and transport consultants all play a part in these award wins. I'm flattered and humbled by my award and I would like to thank those who have helped me grow the business over the last 10 plus years, in particular the last four years."
Moderator and speaker for the evening was BBC journalist Tanya Beckett and guests enjoyed music by The Walnuts. The event, organised by UK Property Forums, publisher of the Thames Tap, was hosted by its managing director, Matthew Battle.
Matthew said: "It was an amazing evening, celebrating an amazing county. It was a privilege to be involved with so many of the key players in the Oxfordshire property scene and their support was the basis for a very successful day.
"It was fitting that we were able to recognise the best in the county which includes talented individuals, major projects and the excellent firms which operate here.
"By recognising best practice, OxPropFest serves to promote Oxfordshire along with those who have made it so successful. Long may they continue to do so."
More information on the winners, those shortlisted and sponsors, can be found in the Awards Evening programme here.
Photo Credits: David Spink Photography 
Back to news