01st May 2020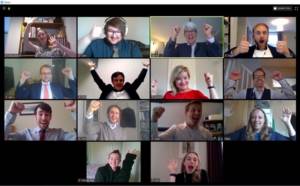 Edgars, the Oxfordshire-based independent planning consultancy, has received a commendation in the category for Planning Consultancy of the Year at the Royal Town Planning Institute (RTPI) Awards for Planning Excellence 2020. The ceremony took place virtually this year on the RTPI's YouTube channel youtube.com/theRTPI
The RTPI Awards for Planning Excellence are the most established and respected awards in the UK planning industry. Running for over 40 years, they celebrate exceptional examples of planning and the contribution planners make to society.
There were twelve companies shortlisted in the Planning Consultancy of the Year category.
Edgars' vision is "Planning for the future imagined" to meet its clients' ambitions by developing its employees and business while actively promoting the profession.
Edgars now totals 12 planners, including four apprentices through RTPI's trailblazer group, who together undertake work of the highest standard by collaborating with local planning authorities and leading consultant teams to deliver high quality development for communities.
The judges commended Edgars for: "…planning for the future through their approach to projects, their focus on apprentices and their strong values. They demonstrated a good mix of in-house initiatives with external involvement."
Jayne Norris, director, Edgars said: "We are truly flattered and humbled to be awarded a commendation. Recognition from the RTPI is really important to Edgars as it not only recognises the achievements of all our staff delivering ambitious projects for our clients, but also reflects the pride and hard work we put into our role in the construction industry and our involvement in promoting the profession to emerging talent through apprenticeships. To be awarded this recognition in the first year we have grown to be eligible in this category is really thrilling."
The RTPI champions the power of planning in creating prosperous places and vibrant communities. It is the only body in the UK that confers Chartered status to planners, the highest professional qualification sought after by employers. It supports its members – over 25,000 worldwide – throughout their careers.
Back to news